Filmmaking in Dubai.
The workshop will cover the basics of filmmaking including lighting, camera movement, sound, and equipment. Eduardo and the students will collaborate as a small film crew to plan, shoot, and edit a short film.
We are truly honored to be a part of the upcoming Gulf Photo Plus (GPP) Workshops in Dubai. From March 1-8 2013, we will be teaming up with industry leading professionals Joe McNally, Gregory Heisler, David Hobby, Zack Arias, Peter Hurley, Bobbi Lane, and other great photo instructors for an unforgettable event. We will have a jam-packed week with workshops and activities aimed to help improve skills, inspire, and educate photographers at every level of expertise. Taking place at the core of the Middle East's photo community, this is going to be one incredible week!
We are thrilled to present two "Photo Friday" seminars AND two 3-day Workshops introducing the craft of Digital Filmmaking to photographers.
As we all know, the emergence of HD Video in current cameras has opened up a new world to photographers and cinematographers, widening the creative palette for visual expression. Our workshop's emphasis will be on reinforcing the theory behind the technique; understanding the equipment and processes rather than concentrating on a finished product.
Here are some of the many topics we will cover, all while working as a small film crew: Digital cinema workflow, terms and techniques, Adobe Premier Pro, script writing, production considerations, budgeting, and the most essential gear.
For a look at what GPP 2013 has to offer, check out their complete list of workshops.
Features

&

Info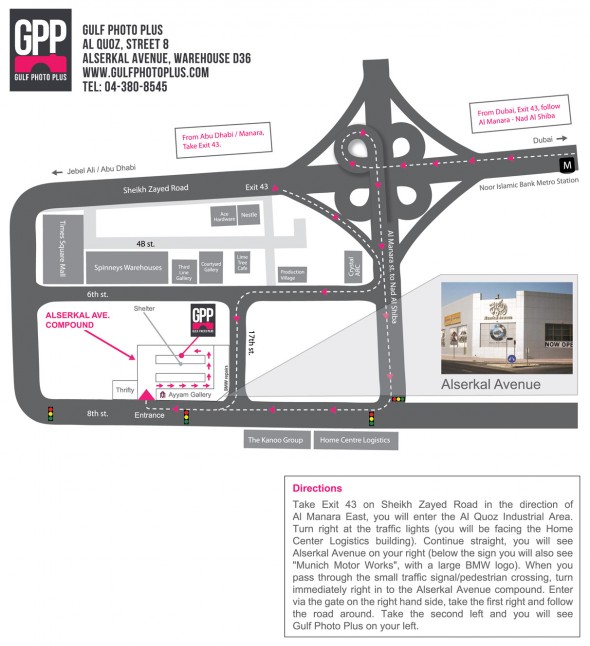 Directions
Take Exit 43 on Sheikh Zayed Road in the direction of Al Manara East, you will enter the Al Quoz Industrial Area. Turn Right at the traffic lights (you will be facing the Home Center Logistics Building). Continue Straight, you will see Alserkal Avenue on your right (below the sign you will also see "Munich Motor Works," with a large BMW logo). When you pass through the small traffic signal/pedestrian crossing, turn immediately right into the Alserkal Avenue compound. Enter vis the gate on the right hand side, take the first right and follow the road around. Take the second left and you will see Gulf Photo Plus on your left.
"The HDSLR sem­i­nar was a great way to get acquainted with the process of shoot­ing video. Mr. Angel took us from the pre-production process all the way through pro­duc­tion, explain­ing which gear is needed to get the job done. As a video edi­tor with more than 15 years of expe­ri­ence, I was pleas­antly sur­prised to hear him talk­ing about post-production, for­mats, and codecs, in terms that any still pho­tog­ra­pher could understand. I went to the sem­i­nar look­ing for a bet­ter under­stand­ing of HD Video on DSLR cam­eras and came out with that, and a lot more. If you want to make the move from stills to move­ment, this sem­i­nar is an excel­lent way to start."
Additional Info

&

Sponsors
Additional Info
please contact us by email at info@gulfphotoplus.com or call us on +9714-380-8545.
Sponsors
HP, in conjunction with Apple, ADOBE and Emirates Models