Making the Most of Ideas: Time Management for Creative People
Develop new techniques for managing your business to increase productivity and see real results.
When:

Apr 30, 2013

Price:

$150.00 Prepaid | $160.00 Day of.
Mak­ing The Most of ideas: Time Man­age­ment for Cre­ative People
When: Wednes­day, 4/24/13 from 6pm-9pm
Berger Bros. Cen­ter for Pho­to­graphic Art
22 Clin­ton Avenue
Hunt­ing­ton, NY 11743
Cre­ative peo­ple con­stantly need to adjust busi­ness offer­ings and improve pro­duc­tiv­ity to pros­per. This Work­shop offers prac­ti­cal advice, proven tools, and effec­tive tech­niques to iden­tify, pri­or­i­tize, man­age, and exe­cute ideas. As we all look for new ways to gen­er­ate added value for clients, con­sider this Work­shop a key invest­ment in busi­ness and per­sonal growth.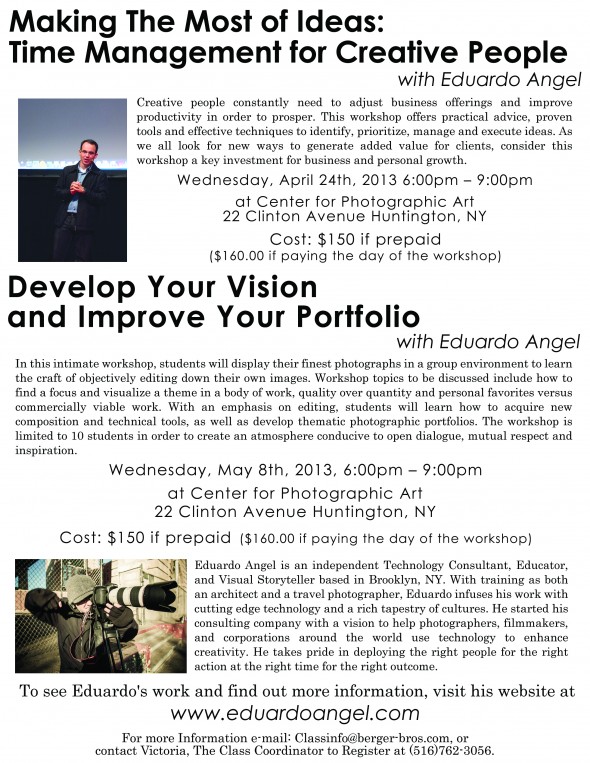 Features

&

Info
Getting There
From Main Street (Rte 110) in Huntington, Turn North to Clinton Avenue (Rosa's Pizza is on the corner). We are 200 feet down Clinton Avenue in a brick building on the right. Parking is available in the Municipal field on our left. Coming from the Northern State Parkway Exit at 40N (Walt Whitman Road)
"The information you provided has given us a new outlook on how we can educate our students on the photo industry. I want to thank you for sharing your experiences and advice."
Additional Info

&

Sponsors
Additional Info
Sponsors